Media Storehouse - Canvas Prints
Are you looking to adorn your home with beautiful art pieces that are special to you? Perhaps you know someone that appreciates art and would like to find the perfect new addition to their collection? Maybe you're looking for a certain image to be printed onto a canvas for your home or place of work? Whatever you're looking for when it comes to canvas prints, we are here to help.
Find your perfect canvas print with Media Storehouse
We can give you access to beautifully printed art from the best image archives
At Media Storehouse you can find images relating to almost any category you could imagine. Whether you're a lover of animals, nature, people, travel, football or anything else special to you, you can find a whole host of prints to choose from which can be turned into canvas art.
How does it work?
In three simple steps you can be the proud owner of a piece of art that is made to your specifications.
Step 1- Take your time looking through our library and our recommendations to find the piece you want. We have over 150 brands to choose from, so you're certain to find the one you love.
Step 2- Once you've got the artwork you like, think about what product you want. Do you want to adorn your home with a new canvas or photo print? Perhaps your chosen art piece would look good on a cushion or mug? Or maybe you want to give a photo gift such as a glass frame or jigsaw puzzle?
Step 3- Sit back and let us do the rest. We'll take our time to professionally print your chosen artwork onto your chosen product. From there, we'll safely and securely package it up and sent it to your chosen delivery address.
You can have it your way with our range of products
As well as canvas prints, we can put your chosen art onto products such as:
Framed Print

Antique Frames

Premium Framing

Photographic Print

Jigsaw Puzzle

Poster Print

Fine Art Print

Mounted Photo

Glass Frame

Acrylic Blox

Metal Print

Greetings Cards

Postcards

Tote Bag

Photo Mug

Cushion

Mouse Mat

Glass Place Mats

Glass Coaster
What's new with our customers?
If you're keen to see what other people are purchasing or simply want some inspiration, we have a collection of the latest pictures to help you easily decide.
Popular at the moment are:
See what is currently trending
Trends are forever changing, so if you want to stay up to date, we have plenty of images, which we hope inspires you. Currently we are seeing a high demand for royal images such as:
Photographic Print of Queen Elizabeth II by Pietro Annigoni in the ILN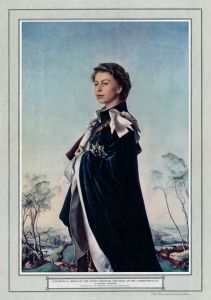 Photographic Print of Elizabeth II - Queen of the United Kingdom and Commonwealth
Don't forget to see our Editor's picks
We offer a varied selection of images chosen by our Editors such as:
Framed Print of Bangor, Northern Ireland, BR poster, 1955
Framed Print of 1968 Jaguar E type 4.2 Fixed Head Coupe
Framed Print of Mumbles Head Lighthouse, Mumbles, Wales
If you have any questions about any of our products or services, we are always happy to help. Use the contact form to ask any questions and our team will get back to you.
To keep up to date with the latest updates and trends, make sure to follow us on Facebook, Twitter, Pinterest and Instagram.