Choose from beautifully printed art from the best image archives at Media Storehouse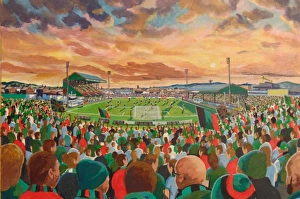 Do you love nothing more than being in the presence of art? Perhaps you have a particular subject or artist that you can't get enough of? If you want to have access to thousands of pieces of artwork that you can print onto different products, you've come to the right place.
At Media Storehouse we can help you find your perfect print that you can then display on our products.
We let you print your beloved artwork your way, whether you wish to have it printed on a canvas or photo mug. Whatever you're looking for, we offer a flexible, fast and professional service that gives you endless choices.
It works in three simple steps.
Step 1- choose your image by browsing our library full of choices
Step 2- choose your products such as:
Photographic Print

Poster Print

Fine Art Print

Mounted Photo

Glass Frame

Acrylic Blox

Framed Print

Antique Frames

Premium Framing

Greetings Cards

Glass Place Mats

Glass Coaster

Postcards

Tote Bag

Photo Mug

Mouse Mat

Cushions

Jigsaw Puzzle

Metal Print
Step 3- place your order and let us do the rest!
Not sure where to start?
We appreciate that finding your perfect art piece can be hard, and with so many choices on our website, it can be even more difficult. To make your decision making that little bit easier, we have divided up our pictures into categories such as:
Our extensive collection consists of thousands of images that can you can find by category:
A popular choice is our collection of animal prints
Animals have the ability to evoke all kinds of emotions in us, and when you're in the presence of animal art, you can create a peaceful and serene atmosphere. With our range of animal artwork you can customise it however you like, whether you wish to have a unique frog cushion or metal print with your most loved bird.
To help you narrow down your choices, you can fine-tune your search:
Our extensive collection consists of thousands of images that can you can find by category:
Or maybe you prefer a historic print?
You can choose from over 6000 historic prints that feature battles and The Berlin Wall. Telling stories that happened thousands of years ago, we have many historic images that capture significant and fleeting moments such as:
Maybe you're looking for a particular person?
Perhaps you love a certain celebrity or well-known person? If so, you can choose from over 28,000 images in our people collection and narrow down your search to:
Need more inspiration?
Then see our editors pick where you can see what we're interested in at the moment. You can also see what our customers are buying and what's currently trending.
Whatever you're looking for when it comes to artwork, you can rely on the team at Media Storehouse Ltd to have it all in one place.
Our team are always on hand to help
Whether you have any questions about our artwork or the products we provide, we are always on hand to assist. Use the contact form to ask any questions and our team will get back to you.
A great way to keep up to date with the latest artwork additions is by following us on social media; so make sure to follow us on Facebook, Twitter, Pinterest and Instagram.