'Launch a Memory' RNLI Keepsakes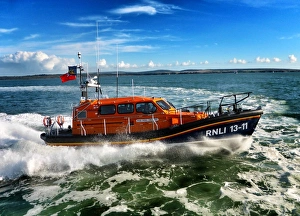 We're delighted to support the RNLI's 'Launch a Memory' campaign helping celebrate lives lost with a wonderful range of keepsakes including framed and unframed prints, canvases, mouse mats, cushions and photo gifts. With 22 images to choose from, it's easy to create a keepsake to cherish the memory of loved ones making some even more unique by adding your own personalised caption.
A new all-weather RNLI lifeboat, which will be permanently based at Clifden in Connemara on the west coast of Ireland, will proudly carry the names of up to 10,000 people. They'll be there with the crew bringing the next person safely home, helping their legacy live on for generations.
Shannon Starboard Side Framed Print
From £44.99 With or Without Caption
Supporting RNLI's Launch a Memory campaign commemorates loved ones with their names appearing in the letters and numbers printed on the side of a new RNLI all-weather Shannon class lifeboat. The naming of the lifeboat follows the tradition of naming them after rivers and the Shannon is the first Irish river that has been chosen.
First Shannon Class Lifeboat Launch
Cosandra 13-12
Designed entirely in-house by a team of RNLI engineers, the RNLI used cutting-edge technology to ensure this new lifeboat meets the demands of a 21st century rescue service. The first modern all-weather lifeboat to be propelled by water jets instead of traditional propellers, making her the RNLI's most agile and manoeuvrable all-weather lifeboat yet. Self-righting she can stay at sea for up to 10 hours in extreme conditions.
Starboard Side Whole Decal
Mounted Print £16.99
Donations to the RNLI are vital for their work towards saving lives at sea, allowing them to train crews, provide essential kits, deliver safety education programs and build the next lifeboat to rescue those in need. You can read more about the program here
Perfect Memory Keepsakes
Together with RNLI, we're delighted to support the campaign helping celebrate the lives of those missed with a wonderful range of keepsakes with 30% of sales going back towards helping RNLI carry on their amazing work.
Launch A Memory Starboard Side N
Cushion £34.99
It's easy to create a keepsake to cherish the memory of your loved one and you can make them even more personalised by adding a your own caption. With framed and unframed prints, canvases, mugs, puzzles, cushions and other Launch a Memory gifts and with 22 images there's plenty of choice.
Shannon Starboard Side
Tote Bag £29.95
You can create your favourite keepsake over at the RNLI Launch a Memory Keepsake Gallery
Suzanne, 21st July 2020