Home > Historic England > Images Dated > 2018 > 7 > 30


Pictures Dated 30th July 2018
Choose from 1 pictures in our Pictures Dated 30th July 2018 collection for your Wall Art or Photo Gift. Popular choices include Framed Prints, Canvas Prints, Posters and Jigsaw Puzzles. All professionally made for quick delivery. We are proud to offer this selection in partnership with Historic England.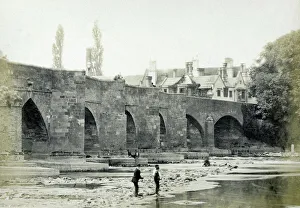 Featured 30 Print
Old Trent Bridge WIL04_01_005
Old Trent Bridge, Nottingham. Men on the river bed by the old bridge, showing the River Trent nearly dried up. Photographed 1875-1877. Richard Allen and Son. From a photographically illustrated book entitled 'Nottingham, Past and Present' written by Frederick S. Williams.