Home > Historic England > Images Dated > 2018 > 1 > 12


Pictures Dated 12th January 2018
Choose from 2 pictures in our Pictures Dated 12th January 2018 collection for your Wall Art or Photo Gift. Popular choices include Framed Prints, Canvas Prints, Posters and Jigsaw Puzzles. All professionally made for quick delivery. We are proud to offer this selection in partnership with Historic England.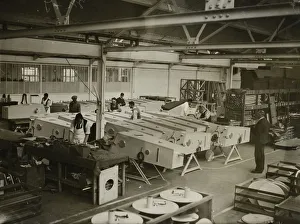 Featured 12 Print
Making iron lungs med01_01_0323
Morris Motor Works, Hollow Way, Cowley, Oxford. A scene in a factory producing iron lungs for Australia. Lord Nuffield, the car magnate, recently undertook to supply every hospital in the British Empire with an "iron lung". Photographed for the Topical Press Agency Ltd in March 1939.
© Historic England Archive
Archive, Factory, Health And Welfare, Healthcare, Industry, Medical, Medical Technology, People At Work, Polio, Respirator, Ventilator