Home > Historic England > Images Dated > 2013 > 8 > 9


Pictures Dated 9th August 2013
Available as Framed Prints, Photos, Wall Art and Gift Items
Choose from 1 pictures in our Pictures Dated 9th August 2013 collection for your Wall Art or Photo Gift. Popular choices include Framed Prints, Canvas Prints, Posters and Jigsaw Puzzles. All professionally made for quick delivery. We are proud to offer this selection in partnership with Historic England.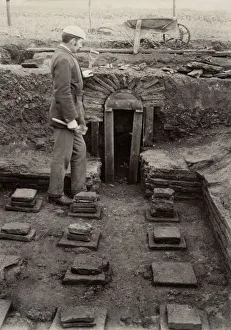 Featured 9 Print
Darenth Court Villa AL2400_097_02
Darenth Court Roman Villa, Darenth, Kent. The dig director George Payne standing amongst the archaeological excavations 1894-1895. The Villa was large and had tessellated floors, baths, a swimming pool and walled gardens. The tile stacks would have supported a raised floor, with under-floor heating from hot air passing through the flue visible in the centre of the shot.
© Historic England Archive