Home > Historic England > Images Dated > 2011 > 10 > 3


Pictures Dated 3rd October 2011
Choose from 2 pictures in our Pictures Dated 3rd October 2011 collection for your Wall Art or Photo Gift. Popular choices include Framed Prints, Canvas Prints, Posters and Jigsaw Puzzles. All professionally made for quick delivery. We are proud to offer this selection in partnership with Historic England.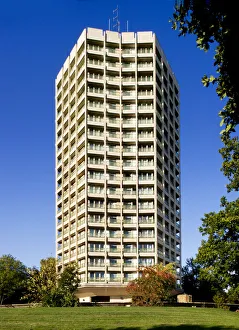 Featured 3 Print
Point Royal DP137909
Point Royal, Rectory Lane, Easthampstead, Bracknell, Berkshire. General view of the tower block. 18 storey point block with circular partly underground parking garage. 1961-64. Designed by Philip Dowson and Derek Sugden of Arup Associates. Grade II; List Entry Number: 1390361.
Concrete, Modern, Post War, Residential, Tall, Tower