All orders are protected by
our Pixel Perfect Guarantee

Fast, Safe Delivery
and Easy Returns
Home > Fine Art Storehouse > Art > Art Illustrations > Randolph Caldecott (1846-1886)
(Canvas Print)
Canvas Print of Baby Bunting in his rabbit skin, welcoming his father home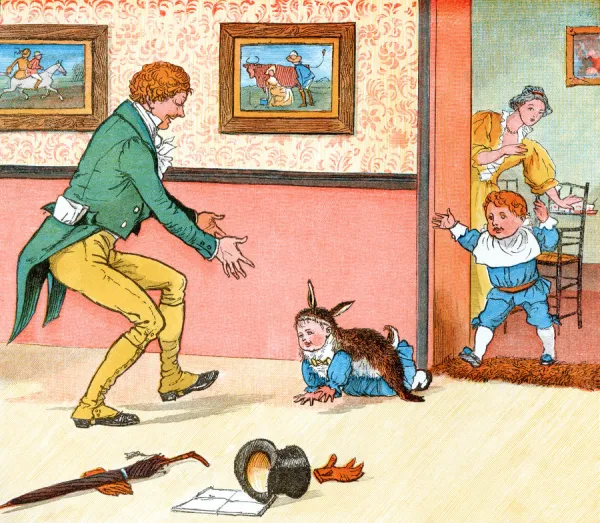 check Made in America
check Pixel Perfect Reproduction
check Made with high-grade materials
check Carefully packed to aid safe arrival
Most popular orders
of this image
Framed Print
Our contemporary Framed Prints are professionally made and ready to hang on your wall
$119.99
Photographic Print
Our Photo Prints are on archival quality paper for vivid colour and detail, and are perfect for framing.
$29.99
Poster Print
Posters printed on superior archival paper. Available in 4 sizes, the thinner paper can offer more affordable wall art.
$15.99
Info
Reviews

Delivery

Pixel Perfect

Canvas Print of Baby Bunting in his rabbit skin, welcoming his father home
Baby Bunting in his rabbit skin, welcoming his father home. From a??R. Caldecotta??s Second Collection of Pictures and Songsa?? containing a??The Milkmaida??, a??Hey Diddle Diddlea??, Baby Buntinga??, The Fox Jumps Over the Parsona??s Gatea??, a??A Frog He Would a-Wooing Goa??, a??Come Lasses and Ladsa??, a??Ride a Cock Horsea??a??, a??A Farmer Went Trottinga??a??, a??Mrs Mary Blaizea?? and a??The Great Panjandrum Himselfa??. Drawn by Randolph Caldecott; engraved and printed by E. Evans. Published by George Routledge & Sons, London & New York, c1885
© Linda Steward
Media ID 18091753
488694349, nurser
20"x16" (51x41cm) Canvas Print
Canvas Prints are a delightful modern way to show off your favourite art, professionally made with non-warp wood for even longer life
check Overall Size 50.8cm x 40.6cm (20"x16")
check Fully covered by our Pixel Perfect Guarantee
check Made with high-grade materials
check Expert colour and quality finish
Photo printed on archival quality canvas. Laminated. Canvas print stretched and hand mounted over thick 1 3/8 inch wooden bars. No frame, 'Gallery' art appearance. Ready to hang.
This picture is available as a Framed Print, Photographic Print, Poster Print, Jigsaw Puzzle, Canvas Print, Metal Print, Photo Mugs, Greeting Card, Mouse Mat
Watermarking does not appear on finished products
Related Categories
Home > Fine Art Storehouse > Art > Art Illustrations > Randolph Caldecott (1846-1886)
Home > Fine Art Storehouse > Digital Vision Vectors > Nursery Rhyme Illustrations
Full Art Print Range
If you are unsure which print style will suit you best then please see our comparison below. We aim to dispatch all orders within a week of ordering with regular Photographic Prints being posted within one working day (ideal for framing at home).
Framed Print - Our contemporary Framed Prints are professionally made and ready to hang on your wall
Photographic Print - Our Photo Prints are on archival quality paper for vivid colour and detail, and are perfect for framing.
Poster Print - Posters printed on superior archival paper. Available in 4 sizes, the thinner paper can offer more affordable wall art.
Jigsaw Puzzle - Photo Jigsaw Puzzles are an ideal gift for any occasion
Canvas Print - Canvas Prints are a delightful modern way to show off your favourite art, professionally made with non-warp wood for even longer life
Metal Print - Make your photos come to life with Metal Prints! With durable metal and luxurious printing techniques, add a modern touch to your space.
Photo Mugs - Enjoy your favourite drink from a custom printed gift mug. Our mugs are printed with your choice of image
Greeting Card - Personalised cards suitable for Birthday Cards, Wedding and Anniversary Cards, Graduation Cards, Thank You Cards and much more
Mouse Mat - Archive quality photographic print in a durable wipe clean mouse mat with non slip backing. Works with all computer mice.