Home > Animals > Fishes > H > Hickory Shad

Hickory Shad Gallery
Available as Framed Prints, Photos, Wall Art and Gift Items
Choose from 2 pictures in our Hickory Shad collection for your Wall Art or Photo Gift. Popular choices include Framed Prints, Canvas Prints, Posters and Jigsaw Puzzles. All professionally made for quick delivery.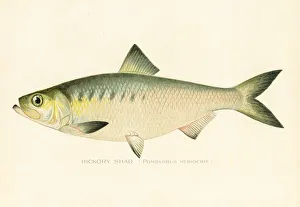 Featured Hickory Shad Print
Hickory shad chromolithograph 1898
Annual Report of the Forest, Fish and Game Commission New York 1898
© This content is subject to copyright.
658561478, Antique, Drawing Art Product, Engraving, Etching, Fish, Hickory Fish, Hickory Shad, Horizontal, Illustration, Lithograph, Old, Retro Styled, Usa